If you're new to the world of hair extensions, you may be wondering about this particular question! Can you colour hair extensions? The answer is yes.
If you were under the impression that you can't colour your hair once you've had your Great Lengths hair extensions applied, well, we get it. Hair extensions that are not made from 100% remy human hair can react badly to colour treatments. However, this is not the case with virgin remy human hair extensions*, such as Great Lengths.
(*Virgin Remy human hair extensions are extensions which have the cuticle layer intact and all hair in each strand is running in the same direction from root to tip. Great Lengths Hair Extensions are also double drawn, meaning each extension strand is the same thickness from root to tip, with no wispy ends, resulting in less breakage and blending perfectly with our natural hair.)
We understand all too well how easy it is to be less than committed to our natural hair colour, so wearers may need a root touch up at some point while wearing their extensions. Rest assured; this can be done.
Having said this however, you must always have your colour done by a professional that is aware of your extensions. To avoid weakening the attachment points, your stylist will ensure that your colour mixture doesn't touch the bonds or tapes. We do not recommend colouring your hair at home while wearing extensions.
THE COLOURING PROCESS
Remy human hair extensions can be custom coloured prior to an application or after they've been applied. To guarantee the best results, stylists will first colour test some strands to ensure their colour formula is correct.
If the colouring is done after the application, strand tests will be done in the nape area, and will be done on each of the different colours of Great Lengths strands used. After a test is done and the stylist is ready to proceed, the colour must be worked through each strand thoroughly.
If colour is applied prior to an application, stylists can suspend the strands to help them colour more evenly and easily.
THE PERFECT COLOUR MATCH
Now that we've answered the question of whether you can colour hair extensions, let's talk why, with Great Lengths, chemical colouring is often not necessary. Before an application, a Great Lengths stylist will complete a consultation with a client to discuss the client's desired results. This discussion will include colour choices (obviously!)
Because Great Lengths offers such a large collection of shade options, a stylist can most often achieve a perfect colour match or introduce a fashion colour through extensions alone. Stylists are trained to be experts in colour matching, blending, and placement to create an array of colour effects. In fact, often stylists will pre-blend strands before an application to create the most natural blend of shades for the perfect match.
If a client's desired look is very customized or complex, and a stylist does move forward with a plan of action that involves colouring the extensions, there are a few guidelines to follow to ensure success: NO bleach, they'll choose the Great Lengths shade closest to the desired colour, and then will use a gentle semi-permanent or demi-permanent to deposit only.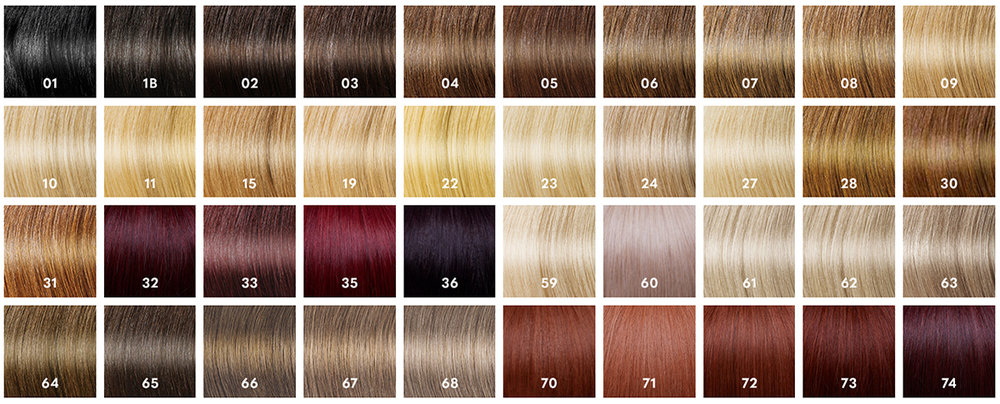 LET'S RECAP
YES, you can colour 100% remy human hair extensions. These types of extensions have been very gently processed and will allow colour to be deposited without damage.
(Learn more about Great Lengths gentle de-pigmentation and colouring process here.)
As with natural hair, chemicals can strip and damage human hair extensions. Remy hair has the cuticle layer intact. This is what gives the hair its natural shine and body. By using harsh chemical dyes, the cuticle layer becomes damaged, making extensions weak, dull and brittle. ALWAYS consult with about your colour goals both prior to your application, and after, should you decide you want to change up your colour.
Do you have a question about hair extensions?
Ask us anything!