Have a look at each of our Transformation of the Month's from 2018! Click through to learn about each transformation, and to hear from the stylist about their 2018 highlights and thoughts on the upcoming new year.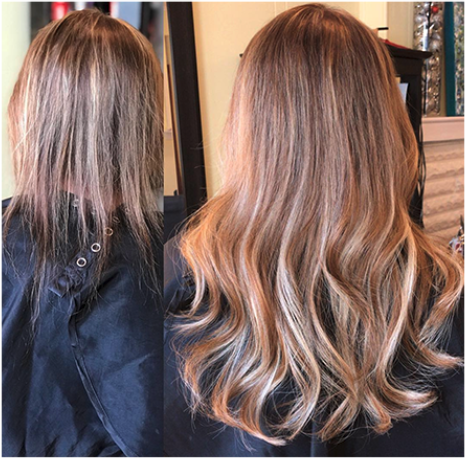 JANUARY
Marianne Savage @burlingtonbeautybar
This transformation was noticed globally; Great Lengths Ireland gave it a well-deserved shout out on Instagram. Marianne's client had used extensions before, but not Great Lengths. Her very fine hair was under major stress from improper treatment by stylists, while also feeling the effects of suffering from stress and anxiety. Using two bundles, with most cut in half and some in thirds, Marianne created a beautiful, natural and healthy look. Since this application, this client has seen much more growth in her natural hair.
In 2019, Marianne thinks clients should resolve to…
"Use the best products you can! You won't have to wash as often or styling your hair will take less work. And, if your day isn't going well- stop what you're doing and get a blowout. Having beautiful hair is a pick me up!"
As for 2019 Trends:
"Anything goes. And that's great because we are all so different!"
Looking back on 2018…
It was a great year! Becoming a Great Lengths educator, and building a new salon for myself and my clients to feel at home in were my highlights.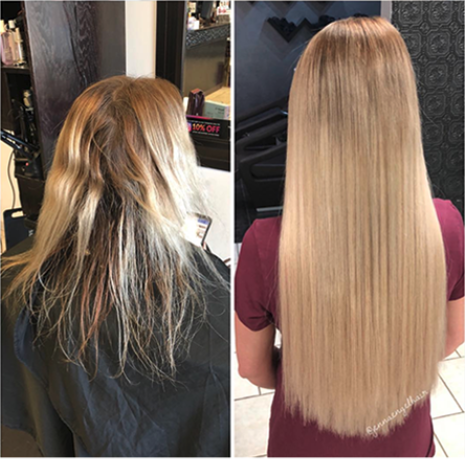 FEBRUARY
Jenna Bosch @jennaengelhair
For this dramatic transformation Jenna used 3 bundles of #59 in 20". The result? A silky-smooth, ultra-long, ultra-blond finish.
Jenna's 2019 hair resolutions for clients:
"I'm always encouraging my clients to use less heat on their hair and to deep condition! These two very important things make a massive difference in the integrity of the hair! When using any heat tool, make sure you use a high-quality thermal protectant and turn the temperature down. Fine, thin, or pre-lightened hair should not have anything hotter then 320 degrees F."
Jenna's personal goal for 2019:
"Win a Contessa! I love doing photoshoot work. It really keeps me thinking outside the box and gives me the opportunity to create looks my clients wouldn't typically ask for!"
Her 2018 highlight:
"Mentoring the group of young stylists on our team; watching them mature and grow their skills above and beyond their own expectations."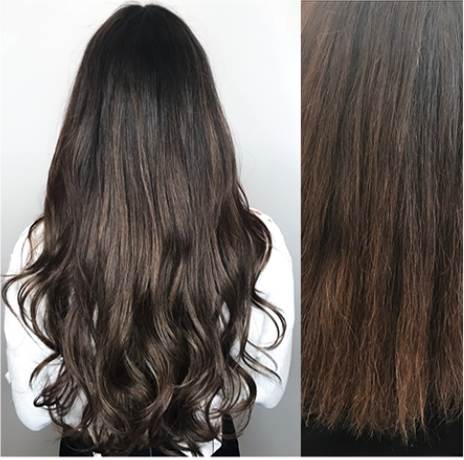 MARCH
Jo-Anny Raymond-Proulx @joannydoeshair
Jo-Anny took this client from drab to fab. An amazing transformation from damaged, short and dead-looking, to long, shiny, healthy-looking hair.
Jo-Anny's tips for success in 2019:
"Be kind, open-minded, always curious to know better, and have passion for what you're doing."
IN for 2019?
"Warm tones! And babylights will be the new balayage."
The highlight of her year?
"My regular clients, who keep coming back because they are happy with my work and love what I do. A great result of the passion and love that I put towards what I do!"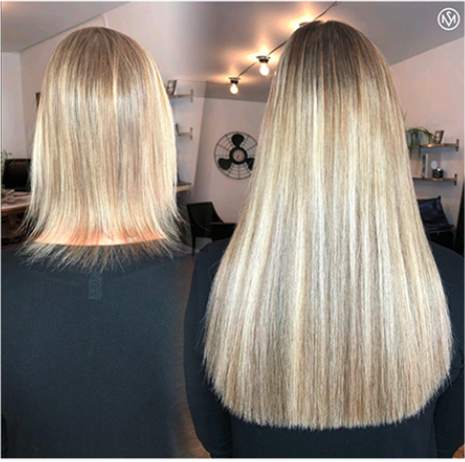 APRIL
Steven Mathew @stevenmathew
Having previously worn a different type and method of extension, Steven's guest was super excited to try Great Lengths. A pre-blend of approximately 200+ bonds in shades 9, 67 and 68 in mostly extra fine (1/3) and fine (1/2) sized bonds were used. This guest has loved her Great Lengths so much, she is having Steven install her third set at the end of this month! Success!
Steven's mantra for 2019:
"Obsessed with giving my best!" "As with anything I do creatively, I am committed to giving my all to every project, so I can continue to grow and excel, and most importantly, continue to feel proud of myself while doing so."
A must-do for stylist success in 2019:
"For the past few years, it has been essential for anyone looking for continued success in the beauty industry to advertise on social media. That's here to stay, but the way people are engaging with beauty posts is changing. A beautiful photo is not enough anymore. People are looking to make an authentic connection with an influencer or a brand, and are becoming less tolerant of being inundated with posts that seem to be lacking in authenticity. Share that beautiful photo but include your story. It's the stories that make us relatable, and in turn will yield greater success."
Steven's highlight of 2018:
"When I think back on 2018, undoubtedly the biggest change I made was stepping up my game and offering Great Lengths for my guests. One look at my Instagram will tell you it was a highlight!"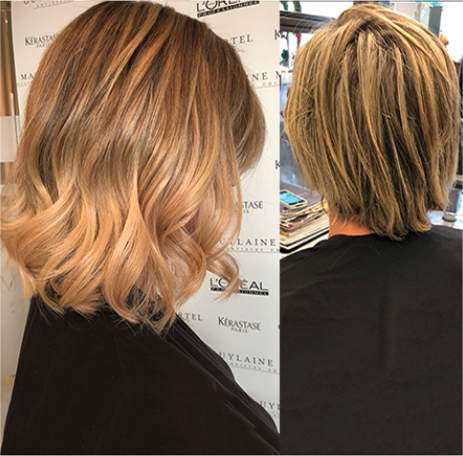 MAY
Élodie Picard @elodiepicard09
This client initially had very short hair, before adding extensions she let her hair grow for about 4 months. Elodie used 5 packs of 16 inch, and her salon's colourist, Catherine, added highlights. The client loved the result! She wore the extensions for 5 months and at the time of removal, her natural hair had grown significantly and was left very healthy.
Élodie's 2019 must-do's for success:
"Be open-minded. Pay attention to detail! Every detail is important. Always offer the latest and the best in home care. And, give your client an exceptional experience every time they are in your chair."
Her 2019 career goals:
"I'd like to develop a new target clientele: mature women who are not familiar with hair extension services, to propose fuller hair, while keeping things discrete and natural-looking."
Looking back… and looking forward:
"The salon where I work, Guylaine Martel Artistes Coiffeurs, has an International reputation, giving all of us in the salon the chance to shine. In 2018, the owner and artistic director, Guylaine Martel, travelled with the Enchanted Show for L'Oréal Pro. In 2019, Guylaine Martel will be taking on the Artistic Direction for La Biosthetique Paris- a new and exciting adventure for all of us in the salon! We're all very much looking forward to it."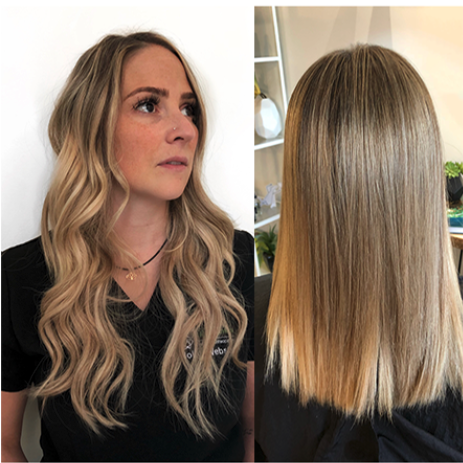 JUNE
Britney McCulloch @wisphairbyb
Britney's client, Holly, had worn Great Lengths before and loved them, so when she was looking for a change, she knew where to turn. Holly has fine hair but a lot of it, so Britney used a mix of fine and full bonds to create this look. Two bundles of #23, two of #67 and one of #61 were used for this look, resulting in perfectly blended blonde.
Britney's 2018 highlight:
"Salon Wisp celebrated one-year downtown Burlington! It's safe to say we love the community we're in."
She recommends client's resolve to…
"Ditch your hair elastics! There's no question all of us long haired ladies like to put our hair up, but regular elastics pull on your hair and cause stress. Using something like a ribbon hair tie or a scrunchie is a lot more forgiving."
Britney's must-do for stylist success in 2019:
"Market yourself online daily, social media obviously isn't going anywhere. The majority of clients aren't coming to our salon by chance, they have carefully selected us through social media."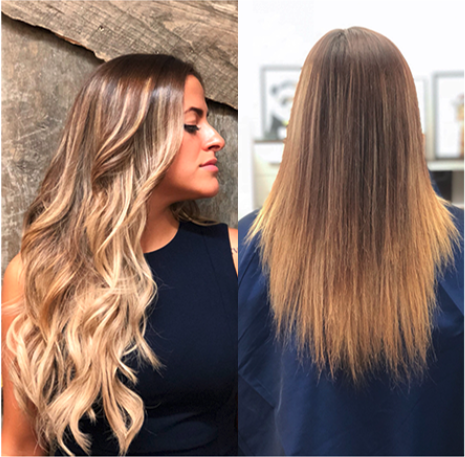 JULY
Lauren Rossi @laurenemilyyy
Want more blonde? Great Lengths is the way to go! That desire for more blonde, and more length, inspired this transformation. Instead of using bleach, Lauren opted for Great Lengths extensions to help keep her client's hair healthy. Three bundles of 16" were used to achieve length, volume and that perfect blonde.
Lauren's mantra for 2019:
"If anything is worth doing, do it with all your heart"- Buddha
Her tips for stylist success in 2019 are simple…
"Work hard and stay authentic."
The highlight of her year?
"Introducing Great Lengths in our hair salon was a big turning point for us this year. Having already worked with these extensions in the past, we knew our clients would be getting the finest quality products and services."
AUGUST
Tiara Noname @Tiaramyhair
Tiara dubbed this look, The Raechel. This transformation used a full head of full bond, 16-inch extensions in a blend of four different colours. Alternating strands and alternating colours made this transformation beautifully natural looking!
Tiara encourages clients to resolve to…
"Try something different in the New Year. Extensions can give you the hair you've always dreamed of! Talk to your stylist about your options."
Her motto for 2019?
"I can, and I will. "
Her highlight of 2018:
"2018 was an amazing year! The highlight would be completing the Great Lengths course and becoming certified in the cold fusion/flat bond method. Pun intended, it has been a great extension to services I currently offer. "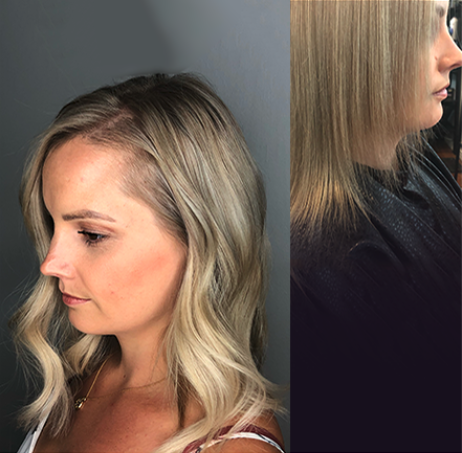 SEPTEMBER
Naomi Raye @nomeraye
Naomi's client Kendall came to her after the birth of her second baby with concerns that her hairline was getting finer. She was missing that full bang that she used to have. Naomi achieved this look with GL Tapes. They give that volume at the front, allowing the hair to fall nicer, and cover a larger area. Her client is absolutely loving them!
Naomi recommends clients resolve to…
"To treat your hair like it's "dry clean only"! We go to the salon and spend money to get our hair healthy and shiny and then go home and use the cheapest product and expect it to be maintained. I want clients to see the benefits of home care. Instead of hearing, "my hair never looks like this when I do it at home", I want to hear, "Oh my god, my hair has never felt or looked better!"
Her thoughts on 2019 trends…
"Trends are mostly guidelines for us to follow. It is our job as stylists to tweak them and make them work in a way that is best suited to a client's needs and look. I'd love to see a more modern mullet come back. It sounds crazy, but Joan Jett, Cher and Jane Fonda all rocked it. Upgrade to years ahead and move towards a strong, face-framing, long fringe."
The highlight of her year?
"Throughout your career you hear all kinds of stories from people. This year I was honoured to meet a few people who overcame cancer and hear their stories. Women going through cancer treatments often say the treatment itself didn't scare them, but the thought of losing their hair was unimaginable. After meeting with them, helping them attain hair they thought would be completely unachievable was the best feeling in the world. It was a challenge for me, and for Great Lengths. My expectations were high for GL and they came through. I was able to help these ladies have the confidence to look in the mirror again. I love empowering women to stand tall and be proud of who they are and sometimes it starts with a great head of hair. Giving back to the community in the one way I know best was my highlight this year, and that's fixing a fellow woman's crown when she needed it most."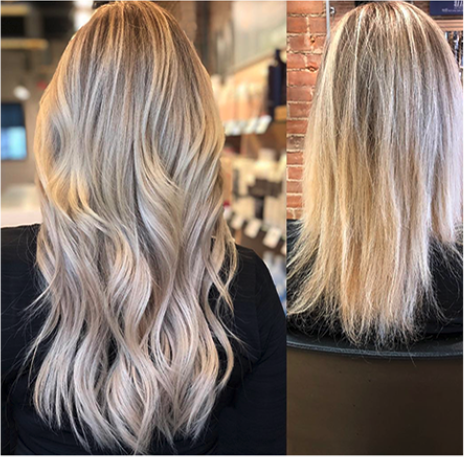 OCTOBER
Frank Saab @saabsalonspa
This client had never been able to achieve the length she desired due to the texture of her hair, combined with damage from blonde processing. At first, she was a little nervous and skeptical; she didn't want to have noticeable extensions. After seeing some of Saab Salon's other transformations however, her skepticism turned to excitement. By using 2 different blonde tones in 16" length, Frank was able to achieve a seamless blend for a very natural look, resulting in one extremely happy client!
Frank's predictions for style in the New Year:
"I think we will see the revival of BOLD, long hair. With Great Lengths comes great responsibility."
His 2019 career goals:
"After doing hair for so long and being a lifetime student of the craft, my goals moving forward are to mentor others and push them to reach greatness."
The Saab Salon 2018 highlight:
"We were asked to participate in Creatif Canada in Toronto, where we had the opportunity to do hair on stage. Créatif celebrates the craft and community of hair artistry and design in Canada. Aiming to showcase the talent in Canada's creative hubs from coast-to-coast; Créatif is the place to witness and be inspired by Canada's creative community of visionaries within the world of hair artistry and beyond."