Fall 2021 Trends are here – so grab your PSL, throw on a chunky sweater and let's see what's coming down the runway!
FIVE HAIR TRENDS WE LOVE FOR THIS FALL SEASON
Zig Zag Parts
Hello? Is that 2001 calling? Yes. She's here and ready to put an end to the Millennials vs Gen-Z hair part debate once and for all. We're reviving this classic which adds texture and volume at the root. Spotted on the most A-list of celebrities, the Zig Zag part is an easy and chic way to glam up your daily look.
How to? When your hair is freshly washed, simply draw a zig zag line down your part pushing some hair to the left and some to the right as you move towards the back of the head. This can be done with your finger or the tail-end of a styling comb. This look is not only GL extension friendly, it's encouraged.
So whether you were team "Side Part" or team "Middle Part" before, I think we can all agree that we are ALL team Zig Zag Part now.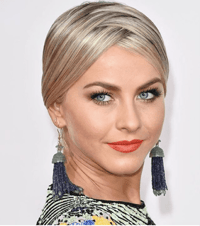 *Julianne Hough sporting a Zig Zag Part
Low Pony Tails
You know its Fall when you start your day with your hair down and as the temperature rises throughout the day the hair inevitably ends up in a low pony. Why the mid-day change? We say, start the day with the look and commit, girl.
This look is seen on the runways and on the red carpets in a variety of styles; from straight and sleek, to wavy and intricately embellished. The secret to an easy, elegant low pony is to hide the hair tie with a strand of hair, or better yet – add a chunky scrunchy and you're set! We love bling and extremes, but sometimes simplicity is simply perfect.
Our favorite thing: low maintenance hair that looks like high maintenance hair.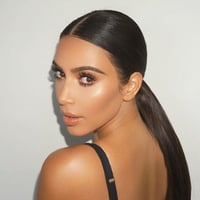 * Kim Kardashian West sporting a low, sleek pony.
Sombres and Low Lights
Darker, more shadowy tones are making an Autumn comeback! These colours are always popular but we notice a major trend in our light blonde clients making a moodier choice for fall by adding some Sombre or low lights to their regular shade mix.
The secret? Our Two-Tone Pre-Blended Shades have done the guessing work for you. Our most popular fall shades are proving to be 66 on 08, 63 on 61 and 03 on 05. Have you tried them yet?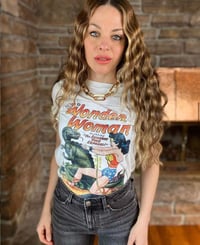 *Pre-Blended Two Tones worn by Natalie Sexton from @natalie_sexton_
Blunt Bobs
This versatile cut has little to no layers; hits just below the chin and provides enough volume to wow a crowd. It's a good cut for anyone going short for the first time, or for someone who needs to let go of long, damaged hair. Lacking volume? Extensions can correct this, by filling in the gaps in the finer areas and creating thick, beautiful, healthy-looking hair - all necessary ingredients of the perfect GL bob.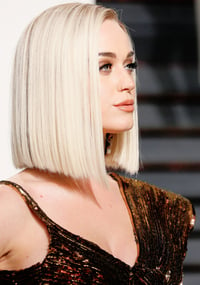 * Katy Perry wears a blunt icy blond bob
Curtain Bangs
This face-framing fringe, better known as a curtain bang, is a glamourous and eye catching trend you just can't miss! The soft and flirty look, which can be done with a variety of lengths of hair, is extremely versatile and easy to maintain.
The best part? Very little upkeep! No more running to the salon every 3 weeks because you can't see in front of you. You can get your curtain bangs trimmed up at the same rate you get your GL extensions re-installed! That is a win-win.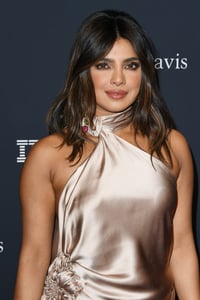 *Priyanka Chopra shows off her sultry curtain bangs